Technology has made our office work easier and faster. The days are gone when printers were only applicable to print on paper and were limited to Windows operating systems.

Now the best all-in-one laser printers for Mac combine print, scan, copy, and even some do fax to make our paperwork more convenient and super comfortable by incorporating all facilities into one toolbox.

Nowadays, people are working remotely; even offices have become smaller. Purchasing each paperwork machine separately will require a lot of space in the room and its electronic devices, so it's expected that it will heat up your rooms and increase your electricity bills.

To remove the extra burden and save some space combining all these essential paperwork functionalities into a single machine can save us a lot of money.

Printing is an essential work in every business. That's why we need a printer that can quickly deal with complex printing at high speed.

Laser printers are the fastest printing machines that are best for high-quality text printing. You will find only a few costly models that still produce average color printing. However, some color laser printers are best for business files, not photos.
Multifunctions or All-In-One printers are not only limited to their main features. They also have some extra features that can increase productivity and give you complete control over printing.
Top 5 All-In-One Laser Printers for Mac Compared
Image
Name
Details
Price

Best All In One Laser Printer




Best All In One Laser Printer

Function:

Print/Scan/Copy/Fax

Speed:

22 ppm

Printer Output:

Color

Check Best Price



Function:

Print/Scan/Copy/Fax

Speed:

22 ppm

Printer Output:

Color

Check Best Price

Best for Monochrome Printing




Best for Monochrome Printing

Function:

Print/Scan/Copy

Speed:

36 ppm

Printer Output:

Monochrome

Check Best Price

Best For Medium Businesses




Best For Medium Businesses

Function:

Print/Scan/Copy/Fax

Speed:

33 ppm

Printer Output:

Color

Check Best Price



Function:

Print/Scan/Copy

Speed:

30 ppm

Printer Output:

Monochrome

Check Best Price
---
5 Best All-In-One Laser Printers For Mac Reviewed
Find out more about them by reading reviews of each printer. Let's find out why these are the suitable choice for you and which ones will work best for you.
1. HP LaserJet Pro M281fdw – Best All-In-One Laser Printer [Top Pick]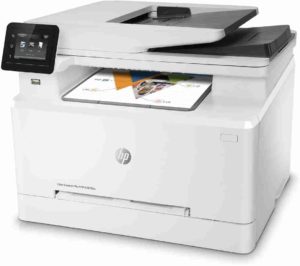 No doubt, HP printers are always famous for their incredible performance. LaserJet Pro M281fdw is popular for its fantastic performance and quality output.

It is the best entry-level all-in-one color laser printer that is a perfect addition to small businesses, home-based offices, or workgroups.

As you may know, Laser printers are only best for producing black and white or colored text printings, not photos. Inkjet printers can deal better with photos. Since it's a color laser printer, it still produces a 600 x 600 dpi resolution, which is enough for most business files.

It has many connectivity options like Ethernet, USB, and WiFi. The initial steps for connecting to the Macbook are too easy. You can use any connectivity technology to connect it super quickly. Not just Mac, it also allows mobile printing. You can print from your iPhone in the way you want.

HP printers come with their own App that can be used to control the whole functionality straight from the phone.

It features a 50-page automatic document feeder for quick and easy paper loading to deal with scanning quickly.

It supports duplex printing, which means it can do two-sided printing. It's best to save on paper and manage our work efficiently.

Many businesses now use cloud storage to secure data management and access quickly. This printer is helpful; it can scan or print directly from cloud services.

Another powerful business feature – "Scan to Email" – can be very beneficial to quickly scan documents and email them to your employees or coworkers.

Furthermore, it's equipped with a 2.7-inch color touchscreen display. It's a bit smaller, making navigating through its settings and connectivity options harder than other HP models.

HP LaserJet Pro M281fdw recommended monthly pages are only 2,500, which is best for light-duty work. It comes with all the features that every business printer has. It produces clean and crispy printing, especially for text. Unfortunately, it does not go well for photo printing.
Great printing quality
Very easy to set up
Compact design
Duplex printing
Scan to email
Support a wide range of print media
Color touchscreen
Print directly from a USB drive
Automatic document feeder
High print costs
Can't do duplex scanning or copying
Does not support NFC
Expensive
Slow printing speed
---
2. Canon MF644Cdw

– Best Color Laser Printer [Premium Pick]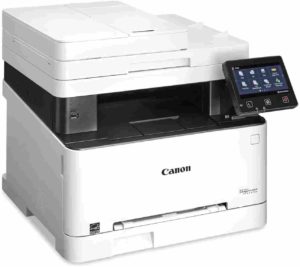 A unique and comparatively fast entry-level printer delivers vibrant graphics and amazing features that are best for home-based offices, small to medium size businesses, and workgroups.

It can serve you well by combining all-in-one features like scan, print copy, and even fax. It's a 4-in-1 printer that can help you conquer complicated paperwork using one toolbox.

Multifunction printers are always heavier and larger; the same is true for this model. The size of the printer is a bit larger and a little more substantial. Indeed, the footprint is small, so you can easily keep it on your desk.

It features a 5-inch color touchscreen with a unique user interface like a smartphone. The control panels are straightforward to use. It lets your IT expert create customizable shortcuts for each frequently used feature. You can later customize it according to your choice.

Most businesses need faster, two-sided printing or scanning to save time and increase workflow. This Canon model has excellent speed for printing; it can print 22 pages per minute for black/white but can only print 14 color pages. The same applies to scan speed.

Enabling you to do 2-sided scanning to help you convert your hard copy into soft copy. We have seen very limited printers that offer duplex scanning.
Read: The Best Color Laser Printers for Mac
Canon offers excellent security features and reasonable prices. It's cost-efficient and provides excellent support for Mac devices that add itself to the category of the best laser printers for Mac.

It uses a standard paper tray of 250 sheets and recommends printing 2,500 pages per month.

Laser printers are not made for photo printing. If you are a photographer, then it won't go well. The color laser printers are best for regular charts, PowerPoint documents, and other business files.

The operating costs are also high; the toner cartridges are expensive and last only for 1,200 pages.

However, it produces an impressive quality that most business owners can choose for its duplex printing & scanning, larger printing volume, exceptional wireless connectivity options, and fast printing in color and black/white.

These excellent features make it our premium choice Canon MF644Cdw is the best In One laser printer for Mac.
Print Fast
Excellent quality
Compact and sleek design
Duplex printing and scanning
Great mobile support
Can store documents in short-term memory
Quite heavy
Does not allow you to save the most frequently used options
Expensive toner cartridges.
---
3. Brother HLL2395DW

– Best for Monochrome Printing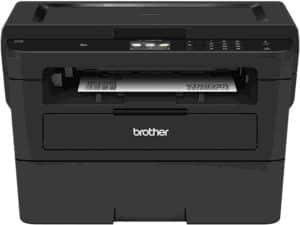 One of the best all-in-one monochrome laser printers for Mac is engineered with durable and convenient features like printing, scanning, and copying. 

Its fully optimized working structure can print 36 pages per minute, leading the way and beating the speed.

It's the right choice for those who need low-budget monochrome laser printers for their small business or home-based office that deals with a lot of printing quickly.

It produces excellent-quality text and average graphics. However, the model does not have a fax but still offers a variety of features. 

Some businesses might not like it because it does not have the fax capability and automatic document feeder everyone wants. While the editor choice (Brother MFC-L5700DW) already has such features.

Brother offers standard connectivity options like WiFi, Ethernet, and USB, which are great for handling the 250-sheet paper tray, and one multi-purpose tray dealing with duplex printing.

The speed is high, and the input capacity is enormous. Such higher paper loading capacity can increase efficiency and save time. The tray, like legal or letter, is adjustable according to the paper type.

Like our top pick, HP, this monochrome laser printer also has excellent support for wireless printers and cloud-based printing and scanning. Print & scan directly to the cloud using its 2.7-inch color touchscreen display. 

The touchscreen display is a bit smaller, but it's powerful enough to save time by enabling you to create a shortcut for the most recently used features. You can customize it according to your choice. 

Many printers lack support for the NFC feature, allowing smartphones and tablets to connect with other devices like printers by touching NFC-enabled devices. 

Brother HLL2395DW is equipped with NFC and provides excellent support for NFC-enabled smartphones. 
Read About: The Best Black and White Laser Printers For Mac
The 15,000-page monthly duty life cycle is an excellent fit for most micro-businesses and home-based offices. 

The device lacks some essential features like ADF. However, it is still too fast and generates excellent printing for business files mainly consisting of text.

It does not perform well for graphics; you will see a slight difference in most white colors. 

We love the model and included it best for light-duty monochrome printing. 
Average printing quality for text
A fast and efficient working structure
Affordable prices
Less expensive toner cartridges
Duplex printing
Wide range of connectivity options
Photocopy option
Compact design and not heavy
Can't scan high quality
No ADF
Below-average graphics for photos
No Fax
---
4. Brother Color Laser Printer

– Best For Medium Business
An all-in-one color laser printer is a significant choice for medium work in small to medium offices. It generates reasonable quality at high speed.

It's fast and allows you to print or copy 33 pages per minute in color and black/white. The output matches the business quality.

Scanning comes with speeds of up to 29-IPM (Image Per Minute). It also has features for the scan to email or uploading to cloud services. You can also print directly from cloud services with ease.

The included standard input capacity is 300 sheets, including 250 sheets for the main tray and a 50-page ability for the automatic document feeder to increase productivity to print, scan, and copy in a multi-way.

The brothers have also been highly focused on security and added triple-layer security to make a stable connection with connected devices to help them better serve to avoid access to unauthorized devices.

This features an excellent for its online working system and connectivity options like Ethernet, Wireless, and USB.

It has 3.7-inch larger color touchscreen control panels, including alphanumeric keypad buttons for performing different actions.

The model can help you to overcome the printing job and do it quickly. However, you can take advantage of duplex printing while printing only. It does not support double-sided scanning, which other low-price printers do.

The output quality for text is excellent for business use. However, we recommend it for color printing office suits like PowerPoint charts and slides.

The graphics for color are intended to be perfect for inner work only. You can't expect higher graphics for clients. For photos, you will find a slight absence of most colors.

Running costs are also average and best suited. It's a reasonable choice. It can be considered for its large paper handling tray, fastest speed, 50 pages ADF, larger color display, and excellent printing quality.

The recommended monthly printing volume for toner cartridges is up to 4,500 pages, making it one of the best all-in-one laser printers for medium businesses. It also works flawlessly with MacOS.

It lacks some essential features like double side-scanning, but still, we found it the right choice if we keep the lacking ability on another side.
Longer toner cartridges
Secure scans or uploads to cloud service
Auto document feeder
Color touchscreen display
Fast and durable
High resolution "2400 x 600 dpi"
No support for duplex scanning or copying
Heavy and large size
---
5. HP Laserjet Pro M148dw – Best Budget Pick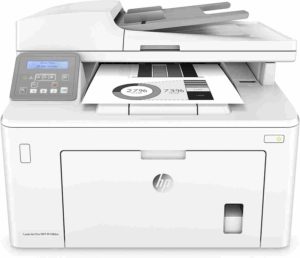 Our budget pick is less expensive and feature-rich. The real-time beast is the best monochrome all-in-one printer for small offices, workgroups, or home-based offices.

It has three AIO functions Print, Scan, and copy; that's why we called it a 3-1 printer.

It offers excellent productivity features and speeds, reaching up to 30 pages per minute.

It comes with 250 sheets of the main tray to quickly input papers. While less expensive, it still comes with a 35-page automatic document feeder that allows businesses to extend their work and do much more in less time.

Compatible with Mac, Windows, and Linux distributions. You can connect to your Mac using either Ethernet connectivity options or wireless.

Wireless is a great feature to print from your iPhone or iPad, and it also allows you to print or scan to cloud services or email it to your coworkers.

HP has an intelligent App for reliability and easy connectivity using WiFi directly. The App allows you to control the printer from your hands by using a smartphone.

The printer works straight out of the box; HP sends 1,000 pages of toner in the package. They described that the drum would last for up to 23,000 pages since it's designed for low-volume printing; that's why the recommended monthly volume is just 2,000 pages per month.

The machine has a built-in Duplex printing feature that most businesses require for different purposes. Much higher price tag printers lack such features, but we believe companies must struggle to get duplex printing features.

The output was perfect for text printing, but it needs improvement in graphics. Also, it does not support printing from a USB drive. The overall running cost for the toners is also a bit high.

Overall, it's an excellent machine for light-duty work. Indeed it's less expensive and beats its competitors with a low price tag.

Offer you a variety of pro features like fastest printing, ADF, most rapid duplex printing, support cloud services with all functionalities, connect by using wire or wireless with great ease, and easy accessibility to its setup facilities.
Work well with many devices
Duplex printing works fast
Inexpensive
Support Automatic document feeder
Lightweight and compact design
Fast printing and scanning speed
A bit of a high running cost
Can't print from a USB
---
Things to check before buying the best Multifunction Laser Printers for Mac
You need to think twice before buying one; all you need to do is to check its size and extra features.
Most printers are compact and sleek and easily fit on yours. Still, some printers, especially All-In-One, are too heavy and need a separate bench or table to keep them on.
They are a bit heavy compared to other printers because all-in-one features are included on their head, which increases their size.
You also need to clearly check some essential options & features like connectivity, output quality, duplex or two-sided printing, automatic document feeder, cloud services, AirPrint, and whether it's compatible with Mac and does Mobile printing. However, you need to check whether it prints in black/white only or does color.
---
Conclusion
Our 5 Best All-In-One Laser Printers For Mac list contains different printers that will be best for other people and types of work. You need to decide wisely by choosing the one that meets your preference.

You won't pay too much if you need a monochrome printer. Instead, color printers will cost you a lot.

Although some all-in-one printers are expensive, we have researched well to make a complete list that will fit your budget and meet your needs.

Remember, every printer you choose should be able to produce high-quality, well-shaped, and crispy prints for text. Laser printers might produce subpar graphics, but it works fine for most businesses. For high-quality photo printing, an inkjet printer is recommended.

Also, you need to check the monthly life cycle for the toner.

Toners last longer and don't dry like ink cartridges mostly do, but they are costly as compared to ink. You need to check the overall printing volume so that you won't pay for toners after a few days of use.

I hope you will now have enough knowledge to make the right decision. If you are still confused and need help choosing, please ask us in the comment section. Our team will try their best to help you get the best printer.
Recommended Post: The 10 Best All-In-One Printers For Mac