Laser printers are designed to deal with large amounts of printing in a matter of minutes. It conquers over speed and is an entirely dominant choice over inkjet printers.

Laser printers perform very well for black and white prints instead of color prints.
You should consider the best black and white laser printers for mac which meet your standard requirements and professionalism and offer several features that I will discuss in this article.

Many people choose laser printers because they know using inkjet printers is too hard, requiring a lot of maintenance.
On the other hand, laser printers use toners, and they last longer; even if you don't use them frequently, your printer will be safe.

Instead, inkjet uses ink cartridges that need proper care; you will need to use them for some time to avoid the loss of ink cartridges becoming dry.

If you are also in the same case, it's a better time to save money and get a black and white laser printer for your home-based office or small business to handle printing work easily.

I will cover different printers that will be perfect for different types of usage and duty cycle.
It would be best if you are wise to choose the one that completely fulfills your requirements. Don't worry; I will be guiding you step by step toward the best.
Our list contains top-rated black and white laser printers for mac that are fully compatible with Mac OS. Some are entirely wireless and enable you to take a print from a smartphone without a wire.
Top 5 Black and White Laser Printers For Mac Compared
The table below will help you to find a suitable choice quickly.
| | | | | | |
| --- | --- | --- | --- | --- | --- |
| | | | | | |
| | | | | | |
| | | | | | |
| | | | | | |
| | | | | | |
| | | | | | |
---
Reviewing The 5 Best Black and White Laser Printers For Mac 2021
Let's take a look at the features and specifications of each printer to find out why these five printers are the best monochrome printers for Mac.
1. Brother MFCL2710DW All-In One Black and White Laser Printer

– Top Pick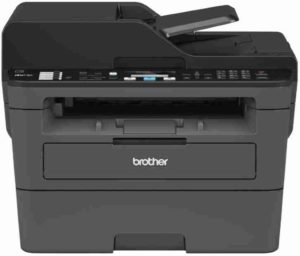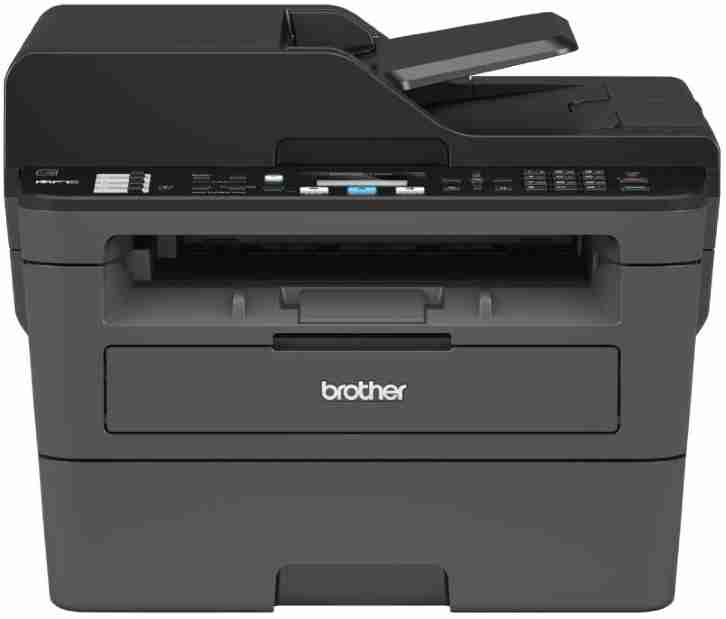 The brothers' printers are a hot pick for small offices, while others put them to personal work in home-based offices.

Brother monochrome MFCL2710DW printers are among Mac's best black and white laser printers that deliver light-duty work for small to medium businesses and workgroups.

The printing machine is capable of generating up to 32 pages per minute.
Such high speed will make your work nevertheless.
You can easily manage your time by doing your printings in a few seconds. Laser printers are indeed a sturdy and perfect fit for heavy-duty work.

You might notice that most laser printers are designed to print only, while some users intend to use scanning, copying, and faxing frequently. Without the proper knowledge, they purchase each device separately.

You don't need to do the same; our featured printer is an all-in-one monochrome printer that brings printing, scanning, copying, and even faxing into one toolbox. Such features are not essential, but they can save you a lot of money.
The printer is well built and a real space saver that contains stable features for different purposes. For example, wireless printing allows you to print straight from your Apple devices, laptops, smartphones, and tablets.

Productivity can much be enhanced from its easy to set up and straightforward operations. The basic but straightforward user interface can take care to navigate through its cool features easily.

It has an LCD control panel display that contains clear buttons for performing different operations.

Toner is like a backbone for Laser printers. It's pretty intelligent to save toners by using save mode.

Duplex printing makes it the best choice for most users who need double-sided printing to save paper.

It featured a 250 sheet input tray and another 50-sheet automatic document feeder that helps to deal with your papers and make refilling even easier quickly.

However, The input source is robust and supports both letter and legal sizes.

The printer is compatible with several devices like Mac, Linux, and windows.

The best part is it allows several connectivity options like wireless, Ethernet, and a separate port for USB.

Ideally, the model is an excellent choice for home users who don't do much printing.
I recommend it for light-duty working businesses because the monthly printing volume is approximately 3000 pages, including toner.

If you exceed the limit, you will need to replace the toner. Thus, the operating cost will become high.

Instead, if you look at its features, it is much more impressive and entirely fits its price range. It produces crisp, sharp, and bold text for different charts and simple files effectively fast. Such branded features make it an affordable choice.
Excellent print quality
Incredible features at low prices
Mobile printing
Multi-functions like print/scan/copy/fax
Support ADF
High printing speed
Duplex Printing
Running costs are a bit high.
The printing speed for duplex printing is slow
Confusing interface
---
2. Brother HLL2395DW Monochrome Laser Printer – Premium Choice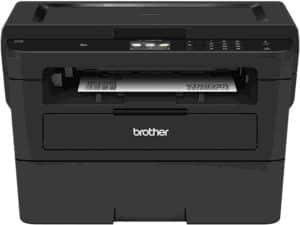 The brothers' black and white HLL2395DW model costs less and does more.

It's equipped with multiple functionalities like printing, scanning, and copying to enhance workflow and productivity. It's much faster to produce a maximum print of up to 36 pages per minute.

The quick and fastest processing performs well on different types of print media. Such an all-in-one piece of equipment brings this fantastic machine into consideration.

The advancement in technology has enabled the printer to save time and space by combining clean and straightforward design.

They are fully optimized for high-quality printings to produce a crispy and well-shaped monochrome print at 1200 dpi resolution.
Furthermore, the built-in paper handling tray can support 250 sheets that help save time and increase efficiency for home-based offices and small businesses.

The devices can be used for printing and scanning directly into cloud-based storage. It supports almost all popular cloud services; even it can perform all-in-one operations straight from cloud storage services.

The device features a 2.7 color touchscreen display that can easily navigate its settings and make it easy to use its supported functions to perform different operations.

The touchscreen display has a built-in feature that generates a shortcut for your most frequently used operations. You can even customize it according to your choice.

While the MFCL2710DW model from Brother does not come with a modern color touchscreen display, but HLL2395DW model has a touchscreen control panel and is much more improved over speed and controls.

It has a wide range of options, including WiFi, USB, and Ethernet when it comes to connectivity.

Wireless technology will allow you to input a print job straight from your connected devices like smartphones, laptops, and tablets without wire.

First-class printing and innovative technology bring auto-duplexing and easy-to-connect support for Mac, Windows, and Linux operating systems.

It supports almost all print media like papers, plains, card stocks, and envelopes. You can adjust both legal and letter sizes for print media types to easily print or scan them.

Brother HLL2395DW is the best black and white color laser printer for Mac under 200$ that works charmingly.

It's budget-friendly and contains rich features that increase the workflow and efficiency for home users and small offices to do more printing in less time.
If you want complete freedom and the best all-in-one black-and-white printers for your home-based offices or small business, then consider our premium picks, Brother HLL2395DW; it's our editor's choice and overall the best printer.
High print speed
Using Color touchscreen display
Easy to set up
Scan to cloud or print from cloud services.
Compact design
Duplex Printing
NFC supported
1200 dpi high resolution
---
3.

Canon imageCLASS D530

– Best for Small-Business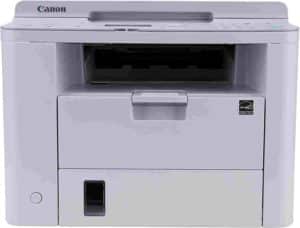 An excellent printer that does print or copy in black & white while scanning in color. It's another ideal monochrome laser printer covering many features that make it the best choice for home users and small offices with few employers.

Canon called this model a copier. You might also wonder why it's called a copier because it covers most features for printing and copying; it does impressive black and white printing.

The model allows you to print professionally and quickly at high speed of 26 pages per minute. The rate applies to the copy process; it can generate the first copy in less than 9 seconds.

Almost all printers are heavy and oversized because all the extra features are added at the top, making it a little big and bulky. The canon, primarily the D530 model, is a unique and compact design that comfortably fits your desk.

If you think that you will do scanning, you might consider it for its color scanning. The resolution of 600 x 600 dpi produces stunning quality. Also, it almost supports multiple file formats — a little unusual in the digitization or scanning of PNG format is available for Mac users only.

As it scans too, it has a small amount of 64 MB of storage for temporarily saving the scan data.

It has smart compatibility for Mac and Windows only. You can easily connect it to the Mac operating system by following the guidelines to download its required drivers.

Duplex printing is also supported for printing only. You can save a lot on paper by using 2-sided printing.

Also, you need to note that duplex printing is only available for print, not for scanning or copying.

Paper handling has the highest priority for every printer; the more it handles, the better it will organize your work. The AIO machine features a 250 sheet paper tray with a one-sheet multipurpose tray best for a light-duty work environment.

The output quality is excellent for text while average for photos. The printing quality of black and white printers is exceptional for standard businesses and regular usage.

If you are required to do up to ten thousand printings per month, then you won't be wrong to go with the Canon D530. It comes with a pre-installed Canon toner, so you don't need to be stuck and do a lot of hard work to put it into action.

All you need to do is open the tray and plug it, connect it to your Mac, and you are ready to get your first print in less than 6 seconds.
3-1 printer; print/scan/copy
Scan in color
250-sheets handling tray and one multipurpose tray
Support scanning in PNG format for Mac users only
Duplex printing
64 MB storage for storing scanned files
Easy to use and simple interface
Excellent quality
Large size & pretty heavy.
No automatic document feeder
Not wireless
4.

HP LaserJet Pro M15w

– Best Smallest and Portable Printer
For the first time, I have seen the world's smallest laser printer from a famous brand HP.

It has a unique design and amazing looks that can easily fit on a corner of your desk, where space is limited.

It's an entry-level personal printer designed for home users and students.

Significantly it attracts primarily students and home-based private office owners due to its low price and highly speedy output of up to 19 pages.

Don't think that it does not meet the standards of expensive printers. It goes beyond and delivers the high-quality monochrome printing that you can expect.

With the inner structure and overall hardware functioning well, it's simple and easy to operate.

The machine consists of 3 buttons LED control panels.

Such buttons only do three things: cancel, power, and another enables WiFi settings that allow connecting the printer to your WiFi-enabled devices like smartphones, Mac, Tablets, iPad, and windows. Initially, the method works flawlessly.

It's a complete Wireless tool that offers connectivity features such as WiFi and USB.

WiFi connectivity will enable you to connect it to your smartphone to print and share resources easily.

HP also has an intelligent app for such tasks. You will need the App to access or connect to its wireless system.

The App is brilliant. You can perform printing operations straight from the App. It also allows printing from cloud services. Indeed, if you run out of toner, you can easily order another one from the App.

Such wireless technology removes the burden of wires from our desks. Nowadays, everything is becoming wireless. If you also need the best budget wireless printer, then you should consider it.

Furthermore, it has a USB port that enables Mac devices to be connected using a USB cable. You can even insert your USB straight to the port to take a print.

It's small in size but still has 150 sheet handling trays for input and output. The small tray is enough for most users to do small printing jobs because the model is simple and designed for personal use only.

The recommended monthly duty cycle starts from 100 and touches 1,000 pages. That's a great deal at such a low price.

It's a budget fit and quality product that works excellently and generates a well-shaped and crispy output; it can easily handle 1 to 3 users.

If you need a simple, essential desk saver, excellent printing quality, low price, best black and white laser printers for Mac OS, iPad, or any other smartphone, then you should consider it for its incredible features.
Portable and easy to handle
Fast and reliable
Best for personal work.
Completely wireless but can also be used with a USB cable.
Meager price
Overall, good printing quality
No duplex
No Ethernet
Low speed, not built for workgroup
Running costs are high
---
5.

Brother DCPL2550DW

– Best Budget Pick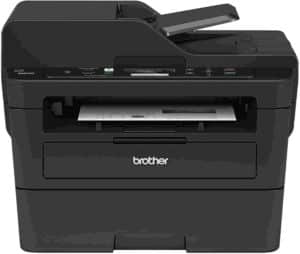 A superb and flexible printer compatible with Mac, Windows, and Linux operating systems enables multifunctional AIO operations like scans, prints, and even copies but sadly does not fax.

These three functionalities together make it an excellent addition for small businesses and home-based offices or workgroups.

It's less expensive and produces standard printing quality for documents, notably text. That's great for business and office work.

Give complete freedom to black and white digital printing by enabling you to adjust the 250 sheets handling paper tray according to your paper type and size.

The monthly duty life cycle for the toner is 15,000 pages, which is also a considerable impact, considering this model for a small office.

Laser printers are indeed a sturdy and perfect fit for heavy-duty work.

THE Brother DCPL2550DW model is equipped with a 50 sheet automatic document feeder that increases productivity and saves time by performing multiple operations to hold and feed papers for scanning and printing automatically.

A brilliant device with superior speed that generates 36 pages per minute, such as high speed and fresh features, compelled us to include it on our list.

Enable a wide range of connectivity options for your devices, including wireless, Ethernet, and USB.

Wireless technology will allow you to print straight from smartphones, laptops, and tablets.

Ethernet is an exceptional case for most offices if they don't work in a network.

It can be easily connected within a network; then, your workgroup will be ready to take advantage of it.

It features a 2 line LCD and control buttons to navigate its features and basic settings for easy printing.

It appears with another built-in cool feature called duplex printing. If you have read about the above-listed printers, you know how useful two-sided printing is to save papers and extra cost.

Overall, it's a decent choice for high-quality text printing.

It also produces below-average graphics for PowerPoint documents. Since it's a black and white printer, it will only make black instead of color.

If you are concerned about print speed and need extra features such as scanning and copying, you should choose this versatile printer. It enables a wide range of connectivity options for Mac devices and works flawlessly.

Indeed, it's also less expensive and allows you to save time and money by bringing duplex printing and all in one operation into one toolbox. It can walk you through your printing jobs very quickly.
High-speed printing, print 36 pages in a minute.
Quick and easy to operate
Less expensive
Excellent print quality
Support auto document feeder
Duplex printing
Compact and sleek design
Subpar graphics for photo quality
It does not support two side scanning
---
Conclusion
All of Mac's listed best black and white laser printers are highly appreciated models from the working era.

With hundreds of choices, it's always hard to identify and choose the best printer for your home-based office and small business.

I don't want you to encounter any issues; that's why I recommend you read about every single listed printer to make the right decision so that you will be happy by the end of the day.

Choosing a printer depends on your needs and requirements. But you also need to look into its built-in quality and working discipline.

You need to make sure that it produces enough printing quality to meet your standards. Also, the printing quality should be the first thing to have a check. You need to look for some extra features to increase productivity and save more money.

From our point of view, I have cleared the different models' working structures and printing quality by defining the pros and cons to make sure you choose the perfect one.

I hope our detailed guide has helped you decide on a monochrome printer that will meet your requirements for a home-based office or small-medium business.

If you think I have missed something or want us to write about any other printer, mention it in the comment section. I would love to know!