You want to save desk space and money on bringing scanning, copying, printing, and even faxing into one toolbox. But confuse the thousands of choices and compatibility of a printer with your Mac.

You don't have to worry more when buying an all-in-one printer for your Mac. Our list of the top 10 best all-in-one printers for Mac will make your day.

Our list of well-researched and tested base printers produces fantastic printing quality and high-end performance. Not just at all; our listed all-in-one printers are fully compatible with Mac OS.

If a printer can print, scan, and copy, it's called an All-in-one (AIO) or multifunction printer. Some printers allow you to fax too.

Multifunction printers are designed for people that want to have all the paperwork in one toolbox.

Additional features such as printing, scanning, and copying are not as essential, but they can save us a lot of space on the desk and save some extra cost of purchasing each device separately.

Today almost all printers are compatible with Mac devices, but it does not guarantee that every printer will work with your Mac devices.

You should be careful with the printer you choose. It should easily connect with your Apple devices and produce high-quality output.
---
Top 10 All-in-One Printers For Mac Compared
---
Our lists cover color and black/white all-in-one printers that are easy to connect with Macs and produce excellent graphics.

Some printers are recommended for individuals, while others are best for small businesses or home-based offices.

If you are in a hurry, you can check the below comparison table to pick one or choose one from our favorite picks easily.
| Image | Name | Type | Output | Connectivity | Price |
| --- | --- | --- | --- | --- | --- |
| | | | | | Check |
| | | | | Wireless, Ethernet, USB, WiFi Direct | Check |
| | | | | | Check |
| | | | | | Check |
| | | | | | Check |
| | | | | | Check |
| | | | | | Check |
| | | | | Wireless, Ethernet, USB, Bluetooth | Check |
| | | | | | Check |
| | | | | Wi-Fi, Ethernet, USB, Bluetooth | Check |
---
Top 10 Best All-in-One Printers For Mac in 2022 Reviewed
1. Epson ET-2720 Color All-in-One Printer – Best Choice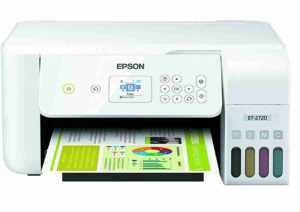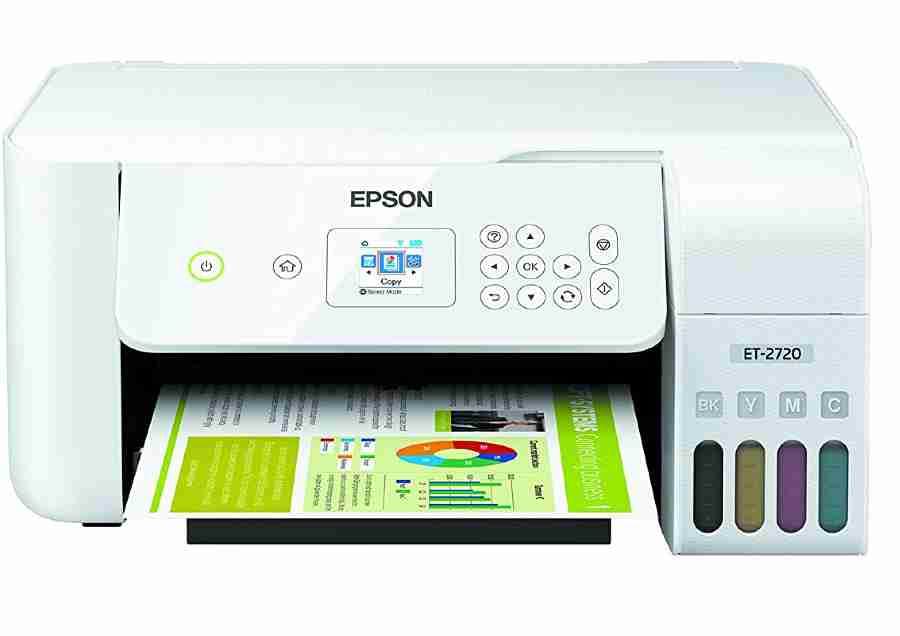 Epson EcoTank ET-2720 is the best All-In-One printer for Mac that has decent features and impressive printing speed. It produces excellent print quality with less expensive ink cartridges.

It's a light and first edition of the ET series that has incredible features such as scanning, copying, and printing. It's an inkjet color printer. That's why it produces accurate color correction output without missing or unmatched text.

The stunning reproduction of this light and compact design made it the best choice for students and home-based offices because it is less expensive on ink. It has larger ink bottles that can be easily refilled and last longer.

The ink set will only cost you around $70 but will last longer and produce a lot of printing.

The EcoTank ET-2720 costs 0.9 cents per color page and 0.3 cents per black page.

Besides, the printer is an excellent choice for a quick start, as it comes with enough ink in the box to print up to 4,500 black and 7,500 color pages.

You can activate the printer with voice commands. It works great with Alexa and Google Assistant. You need to ask the printer for a to-do list. You will automatically receive your voice command to perform the required job.

This printer can do a lot of work with its wireless connectivity. You can even make prints from your phone too.

It is the best printer for PowerPoint and quickly prints your Excel sheets, graphs, text, and charts. It can promptly deal with sophisticated and straightforward printing.

If you want to save on the extra cost of purchasing ink and like an excellent all-in-one functionality printer for your Mac. Epson EcoTank ET-2720 is a perfect choice, whether running a small home-based office or a student. 

Epson ET-2720 is our top pick for our list of the best all-in-one printers for Mac. The Beast is an all-in-one solution for your work.
---
2. HP Color LaserJet M479fdw – Premium Choice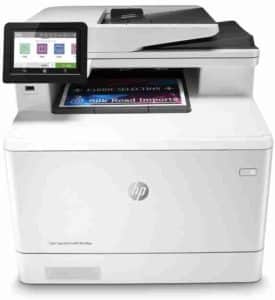 Laser printers are best for printing many pages at a very high speed. The Laserjet Pro has all additional features such as printing, scanning, copying, and even faxing. It's a premium choice for small business owners.

HP printers provide top-class security for their printers as well. It is featured with security layers that enable it to print freely. It gives instant notification for every unauthenticated entry to it. 

By using automatic workflow principles, you can save a lot of time. You are allowed to do anything by using its easy-to-use touch screen. The 4.3 color touchscreen technology is easy to use.

You can control your whole printing using the controlling touch screen panel. You can customize your printer functionalities and make them according to your workflow. 

It has different ways of connectivity, like wired and wireless; You can use Ethernet or WiFi to get your printer into use.

However, it also comes with a USB port, an excellent feature for taking a print straight from your USB.

Another great feature is the WiFi-direct connectivity that allows one to take print without an internet connection.

A multifunction printer allows you to scan and share files directly through email.

It features 2-sided printing, large paper sheets, and even 550 optional paper tray sheets that are an excellent fit for printing in bulk. 

LaserJet Pro is the perfect choice for small business owners. It has duplex printing capability, and high speed allows you to print 28 pages in just a minute.

It can produce excellent color output and has many additional features to enhance your workflow. All the pro features are for small-business owners and home-based offices.

It produces very high-quality graphics at a considerable speed. It can quickly fulfill your requirements. It's also the editor's choice of our list of the best all-in-one printers for Mac.
---
3. Brother HL-L3290CDW Color Printer – Best Value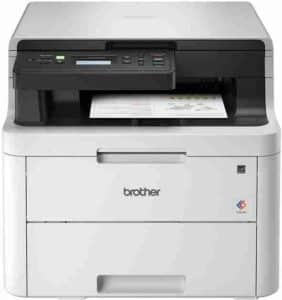 This model is for you if you are looking for a light-duty work printer for your personal use or a small home-based office.

It's a color laser printer capable of light printing, scanning, and copying work.

If you want to copy, scan, or print a couple of pages at a time, then you can't ignore Brother HL-L3290CDW. 

It's a budget-friendly printer that is too fast to print 25 pages per minute.

Indeed, it produces excellent-quality color printing. It has a large paper tray for handling up to 250 pages.

Furthermore, with its easy-to-connect capability, you can start printing in just a few minutes and do much more.

The printer features wireless connectivity features that you can use to connect to smartphones, tablets, laptops, and even personal computers.

As we discuss Mac, this model is a great quick start to your printing life. It works perfectly with any Mac OS version.

It works like a charm. You can do much more in less time. It's color-rich and budget fit that produces impressive output.

Amazingly, you can enable toner saving mode to avoid massive toner usage and cost if you want to save on toner. 

This model is for light-duty workers and produces perfect graphics, but if you are looking for a high-quality color printer, this model should not be your choice.

It's great for a quick start as it is a budget-friendly, all-in-one printer with all the pro features that laser printing must have.
---
4. HP OfficeJet 250 – Best All-In-One Portable Printer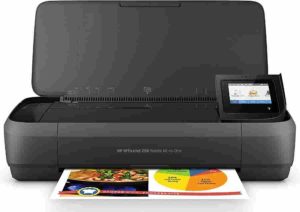 HP is a trendy brand, and they design excellent printers. This time, we have another quickly operated printer.

If you are looking for a small-size Mac printer, you should consider HP OfficeJet 250.

For traveling, this model will surprise you. It is small in size and can easily fit in your backpack.

It's portable, and you can take hassle-free printing anywhere.

It's an incredibly great choice for every piece of paperwork. It produces pretty good graphics. 

This portable printer meets the standards of an all-in-one printer. You can scan, print, and copy straight out of the box.

It comes with a touchscreen control panel, an excellent choice for navigating through its menus easily. 

You can lead the way in printing; with this model, you don't need to use it only with laptops. It can easily connect to your phone too. It's simple to set up and easy to use.

It's great if you are away from your office and want to take a print of your essential documents.

The auto document feeder can only support ten sheets, but still, it's an excellent choice for small work. However, the overall input capacity is 50 sheets.

It's one of the best portable printers for Mac. The portability allows you to use it anywhere and everywhere. Indeed, it produces incredible output at a high quality.

If you want a mini or portable printer for your paperwork, it's the best all-in-one inkjet printer for Mac. It meets the standards of other expensive all-in-one models.

You are allowed to print through your phone. It also has a long-lasting battery life, bringing considerable change to the printing world.
---
5. Brother MFC-J995DW – Best to Save Money On Ink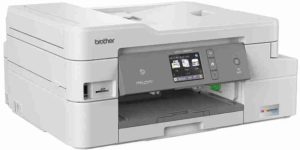 We have another responsive printer that produces clean and soft edges color output. It brings the productivity that every small business owner needs for their work.

The paper tray is capable of handling up to 150 sheets, as well as it can do to do duplex printing too.  

Indeed, the Brother printer features a responsive touchscreen display to control your printer quickly.

Some printers can't start instantly nor get responses to your clicks; with this model, it is super fast toward your clicks. It has a touch screen allows you to navigate menus and print in just a few minutes easily.

This model focuses on excellent quality output and saves you a lot of ink.

It comes with one year of ink straight in the box. For the next year, you do not need to purchase extra ink.

The printer is the ultimate choice, as it does not overeat ink. You can save a lot on ink cartridges.

It has many easy-to-connect options like wireless, Ethernet, and even USB. Recognizing your devices won't take a minute if you compare them properly. 

It features an Automatic document feeder (ADF) to quickly do copy and printing jobs.

The ADF paper tray or paper holding capacity is only 20 pages, but it's an excellent fit for small business owners or even a home-based office.

It's an all-in-one feature that can be connected to our Mac OS, compatible phones, or even Windows. You can do much more without wires as it features wireless connectivity. 

If you need an all-in-one printer and want to save money on ink, then Brother MFC-J995DW is the right choice. It is best for small businesses, school work, personal work, and homes based offices.

It brings excellent graphics and has all the pro features, making it a perfect choice for everyone. 
---
6. Canon ImageCLASS MF236n – Best Monochrome Budget Pick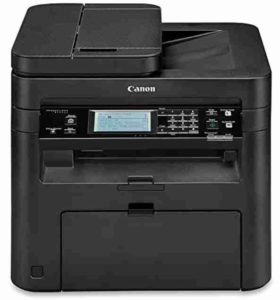 This all-in-one printer can produce impressive black-and-white printing on its back end. You can enable power with its best multifunction operations and print how you want.

The compact design requires less space and easily fits in your room. Seamlessly, an easy-to-use LCD touch display brings a user-friendly environment to control its actions. 

It's equipped with a large paper-handling tray. You can easily print up to 250 sheets. A larger capacity can be beneficial for small businesses. The printer is best for personal use, as it is best for low-volume printing.

The price perfectly matches the printer's functionalities. It is super fast and efficient to produce 24 pages of printing in just a minute.

It does not have wireless connectivity; instead, you can use a Canon printing app for its compatible devices. The app allows you to take prints, scans, and even copies.

If you are low on a budget and need the best all-in-one monochrome printer under $100 – 200$, then Canon MF236n will be a surprising model.

It can deal with scanning, copying, printing, and even faxing. You also need to note that this printer cannot produce color printing; that's why it's not too expensive.

It works very fast and is a well-designed printer for Mac users.
---
7. Brother MFCL2710DW – Best All-in-One Monochrome Printer For Mac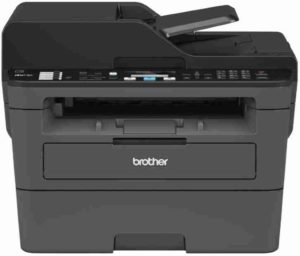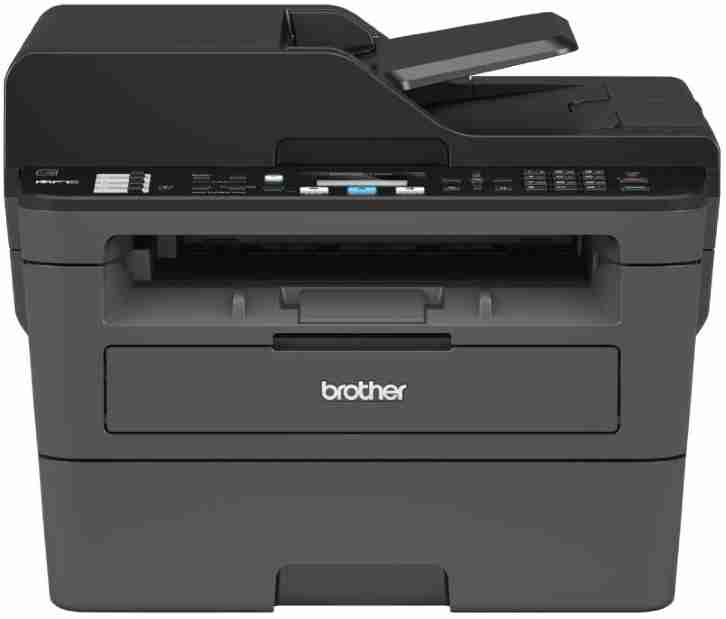 Another superb multifunction printer specially designed for home-based offices and work groups.

It's equipped with unique and robust features. It's a complete tool that enables access to a vast collection of relatively fast and quiet operations and incredible features like print, scans, copies, and even fax.

It's a laser print, so it must be speedy. It can print at a very high speed of 36 ppm. The more momentum a printer has, the more time you can save.

Another cool feature is that the automatic document feeder can handle up to 50 pages simultaneously. Its real-time speed helps to handle copying, scanning, and copying quickly.

It's pretty smart at work as it produces excellent-quality printing.

If you need a super-fast entry-level black and white printer for your workgroup or small office, then Brother MFC L2710DW is the best all-in-one laser printer for Mac. You can quickly deal with your printing jobs designed for that.
---
8. HP ENVY 7855 – Best All-in-One Photo Printer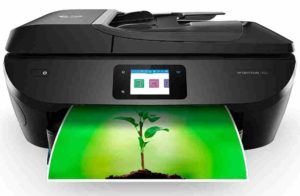 As another step forward, HP's envy photo 7855 model is the best all-in-one printer for Mac devices. It's perfect for color printing.

For HP company, this is another excellent fit for Mac devices. It's a complete tool for color printing and black & white.

It generates a shocking printing quality, and a super large paper tray can impress everyone.

It uses borderless printing techniques to make your printing stand out.

The size of the printed photo is pretty significant. It's best to make albums at home.

The main focus of this color printer is to produce high-quality images. Graphics are good enough for printing small tasks of schoolwork or any other business.

Touchscreen displays enable you to go through a few steps to convert digital images into hard copies.

This upgraded version also has a wireless connectivity feature that allows you to connect your phone or laptop without trouble.

The scanner has extra features like a scan to email. It is helpful to scan documents frequently and share them with your team. It saves a lot of time and improves your work.

Duplex printing, mobile printing, and wireless connectivity are enough to meet your requirements and demand for the best all-in-one photo printer for Mac. HP is the most popular brand; they know quality checks, and user demands well.

It is a quality and competitive printer for photo printing. You can consider this model if you need a color printer for Mac. It's not too expensive to operate; per print costs less than 5 cents only.
---
9. Epson WorkForce WF-7710 – Best Wide-Format Printer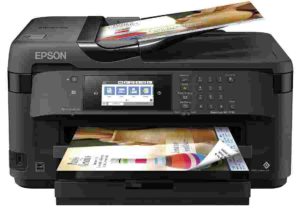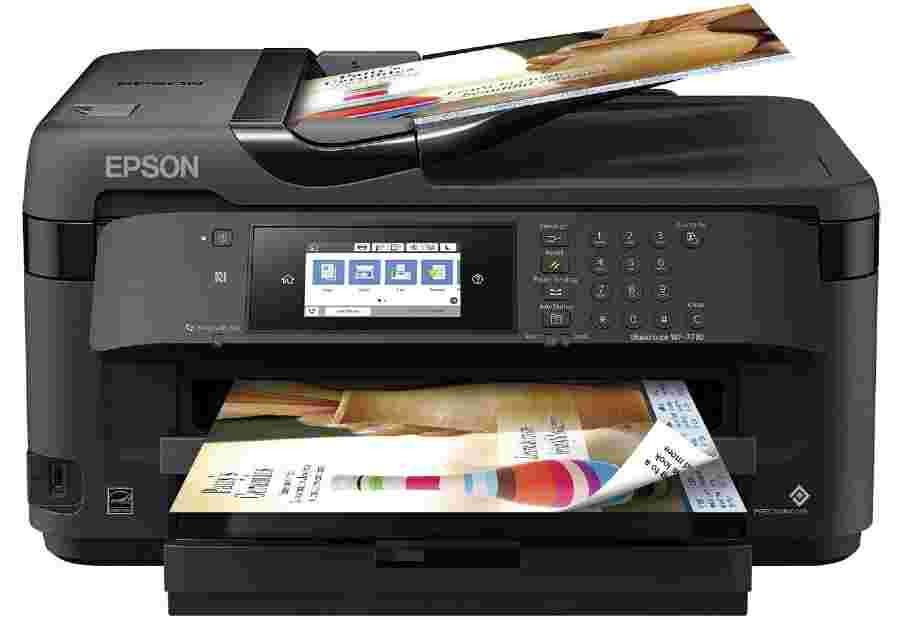 Another mac compatible model and amazingly fast, the best wide format all-in-one printer for Mac.

It is a wide-format color inkjet printer that can scan, print, copy, and fax.

If you print more vital documents of up to 13 x 19 inches, this printer can be helpful for you. Indeed, the scanner can also scan 11 x 17-inch documents.

It produces large printing at a very high quality. The printer is powered by a 250-large sheet tray and a 35-page auto document feeder that can quickly handle your pages.

It's too fast. You can easily print up to 18 images per minute. 

The color and touchscreen control panel is also significant. You can easily see it from a distance. The printer is straightforward to set up and operate. 

Wireless printing technology lets you connect your iPhone, iPad, or any other smartphone to it using Ethernet or WiFi direct. 

This printer's unique workflow and fully optimized structure can bring excellent graphic quality and beautifully correct color combination images.

You can easily connect it to your Mac or window without any problem. It comes with exact compatibility features that meet the requirements of Mac OS.

This model is recommended if you are looking for a color printer for your home office, small business, or crafting.

It's entirely designed for productivity to meet the standards of high-quality printing. It provides wide-format printing and is equipped with all-in-one features. You will enjoy the natural taste of this well-made printer.
---
10. HP OfficeJet Pro 9025 – Budget Pick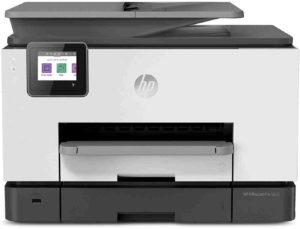 Another affordable printer from HP is here to surprise us with its unique features. 

It's fast and smart and can help perform a plethora of printing in just a few minutes.

The printer can be easily set up and used. You can follow the manual and start printing if you have little computer knowledge.

Indeed, HP printers are powered by smart apps that enable you to control your printer from your phone or tablet remotely.

You can do a plethora of printing by connecting your phone to it through WiFi or Bluetooth. The app contains all the features that can be used by it. You can see a warning once you are running low on ink.

The scanning process is magical. There's complete freedom toward scanning technology. You can send your scan documents automatically to any email and upload your files to Dropbox and google drive to save them on the cloud forever. 

HP company is improving its printers; they have added a lot of security encryption to their printers.

This model also has a security system that protects your printer from data leaks and other security issues.

"Self-healing WiFi," which works behind connection stability, frequently checks your connectivity to ensure you are connected to the right password-protected WiFi network.

It's pretty smart to detect and troubleshoot networking issues to continue your workflow without losing connection. 

If you need a mac compatible printer for schoolwork, a home-based office, or a small business, then OfficeJet Pro 9025 can handle your simple or complex printing.

It meets industry standards and presents you with more precise, crisper, and beautiful graphics that make a print copy worth adding to the frame.

You can also use it for professional and straightforward printing. These incredible features kicked this product into our best all-in-one Mac printers list.
---
The Verdict
Purchasing the best all-in-one printers for Mac depends on your needs, requirements, and budget. Our list has cleared every printer's demands, functionalities, usage, and features. Now it's up to you which model will best suit you.

Every printer we listed here is fully compatible with Mac devices. Some manufacturers will allow you to connect your Mac to their printer. It will automatically start downloading the required drivers.

Meanwhile, others will require you to download it manually from the official manufacturing websites.

The ten best all-in-one printers for Mac listed printers are efficient, reliable, and value for money. It won't disappoint you with its working structure. They are fast and produce crispy, clear, and correct combinations of printings.

You deserve the best if you have already bought a Mac-compatible printer; we would love to hear about your experience in the comment section.

Also, if you have any questions or suggestions for our guide, use the comment section to post your query. Our team will be happy to assist you.